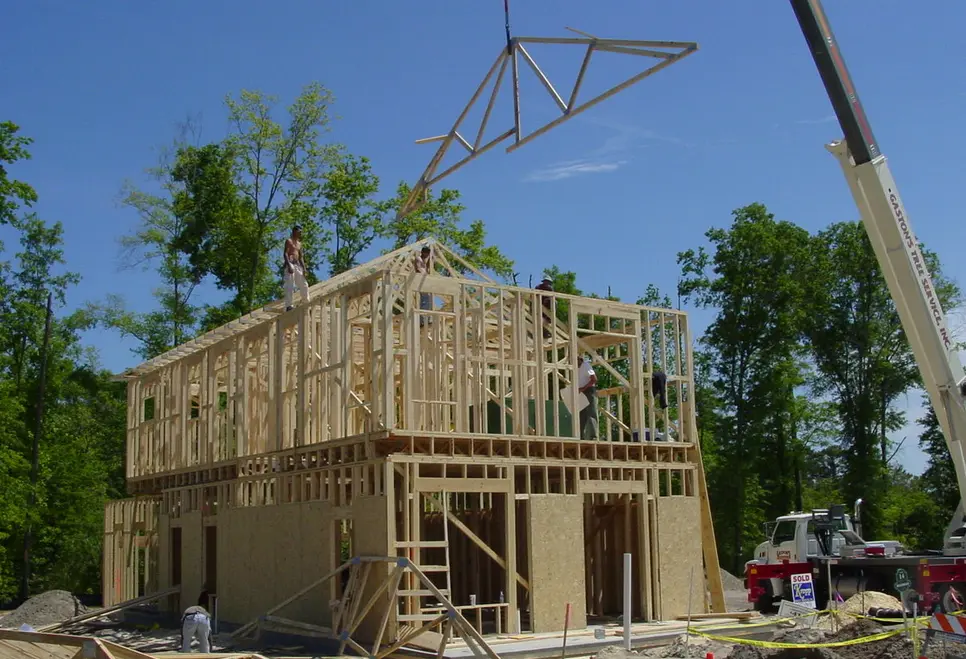 Stick building is a more traditional way of framing a home.  Most small or custom builders use this as their preferred manner of constructing their homes since they tend to build homes that are unique.  Roofs, floor trusses and all framing is, in effect, created on site from individual pieces of lumber.  Problems, when encountered, can be solved more easily with stick building than it can with 'engineered.'  There is also a perception within the industry as well as in the public's mind that stick built homes have a higher degree of quality and the framing crews and carpenters that stick build homes in the field are more skilled than their 'engineered' counterparts.
This is not always the case.
Engineered lumber is simply lumber that is pre cut in batches at the factory level and delivered to the site for builders that tend to build large numbers of the same plan.  Additionally, engineered lumber can also come pre-assembled into floor systems and/or roof trusses.  Once again, for builders that tend to repeat the same floor plan, having trusses made on a factory floor to specific shapes and sizes and delivered to the job site, this can create a savings in terms of both time and money.  It is also less wasteful, which is a good thing.
In reality, both techniques, when applied correctly, can be considered best practices and it has become quite prevalent for some degree of each technique to be employed by builders.  Even the small and custom builders recognize that floor systems and to some degree, roof trusses, can be used even for the most custom homes.  Setting roof trusses and floor systems can offer days (or sometimes even weeks) in time savings.  If the plans are designed with these efficiencies in mind, then the builder can still create a custom and stick built home yet take advantage of the savings offered by engineered lumber.
Neither one is right or wrong…it just depends on the type of home and the capabilities of your builder.
---
Other Articles on New Home Materials